Our team
Together for your dental health
---
Competent, high-quality treatment , in which friendliness and cooperation at eye level should never be missing – that is what our practice team and all its employees stand for. You are in good hands with us, because we are aware of our responsibility: We are constantly educating ourselves to ensure optimal treatment conditions and together we create a pleasant atmosphere for your well-being. The desired goal is always a successful treatment for a sustainable health of your teeth. Our greatest reward is your satisfied smile!
Our Orthodontists
Dr. Claudia Aichinger
Orthodontist
I really enjoy working intensively with children, young people and adults. Orthodontics never gets boring because it is constantly evolving. With increasing experience, we can always achieve better results. The job of an orthodontist is the most fulfilling I can imagine for myself.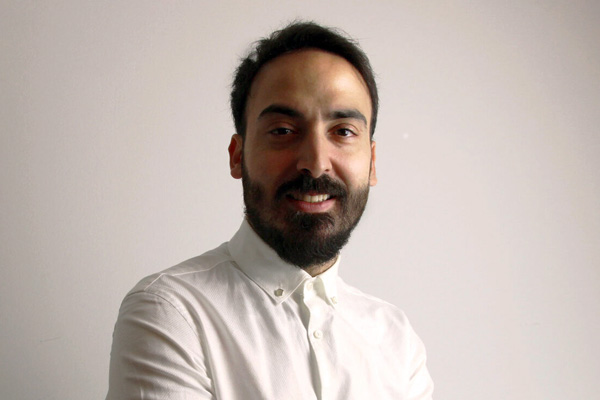 Dr. Shadi Loutfi
Orthodontist
I really enjoy working with patients who appreciate our work and are happy with the result of the treatment: their new, radiant smile! Working in a great and professional team is fantastic. For me it is something very special to help our patients to have a beautiful smile and thus more self-confidence together with my colleagues.
Our team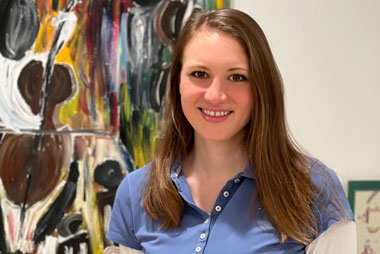 Dr. Katharina Zifko
Treatment room
During my dental studies, which I completed in December 2021, my interest in orthodontics grew steadily. I am very happy to be in the practice of Dr. Aichinger-Pfandl to increase and consolidate my knowledge and to support the great team.
I've worked at the practice since it opened. I take care of the finances and am very happy to help with any kind of request.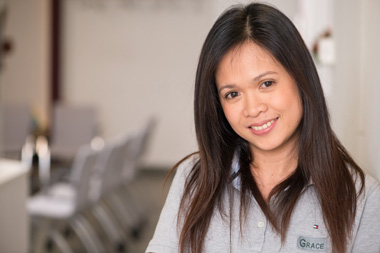 In my home country, the Philippines, I studied dentistry and worked as a dentist. Here in Vienna I have been an orthodontic assistant in this practice since 2005. The work gives me great pleasure. I especially like the moment when the patients leave the practice with a confident smile after the end of the treatment.
I have been working as an orthodontic assistant in the practice since 2006. I particularly enjoy working with children. I think it's great that I can also develop professionally here in practice.
I always wanted to work as an orthodontic assistant and today I really enjoy it. I especially like working with the patients. So that I am always up to date for you, I have already attended a number of training courses for dental technology.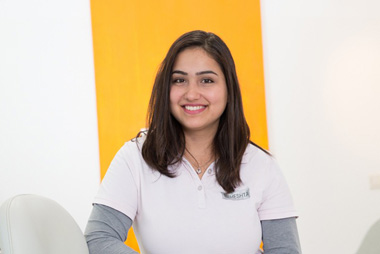 I've been there for our patients since 2015. You meet me in the treatment room or at the reception where I have various tasks. I am always happy to be there for our patients and also answer their questions on the phone. For me, seeing the patients smile again is the best part of my job.
I have been working as an orthodontic assistant in the practice since 2013. I practice my profession with all my heart and support our younger and older patients during their treatment. It is my top priority to see the patient satisfied.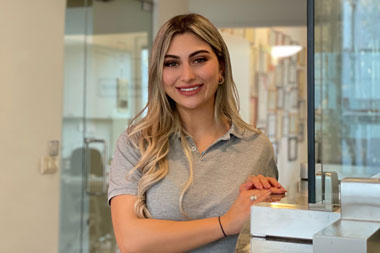 It has always made me happy to see smiling faces. That's one of the reasons I chose my career: I work in the practice as a dental assistant and always aim to put a smile on everyone's face.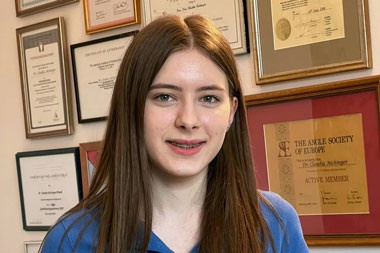 I find dentistry very interesting and I look forward to my work with children and young people every day. Every day I set myself the goal of doing my best.
In the practice, I especially enjoy working with the patients. It's always exciting and I learn something new every day. That's good for me and, of course, above all, it's of benefit to our patients.
I like to learn and find the developments in dentistry particularly exciting. What I enjoy most about my work is when I can help our patients to have a beautiful and healthy smile!
I am currently in training to become a dental assistant. The best thing about my job is that every successful treatment of a patient ends with their smile. It's just nice to see people happy and content.
I am currently completing my training as a dental assistant and I am very enthusiastic and committed to helping the team to master everyday practice.
For me, of course, the patients and their satisfaction are in the foreground,
Nilab
Treatment room – currently on maternity leave
Dentistry has always fascinated me because you learn something new every day. In addition, there is the work with the patients, which gives me great pleasure, especially when the treatment results make them happy and satisfied.
Semanur
Treatment room – currently on maternity leave
I have been working in the practice as an orthodontic assistant since 2013. The varied activities are a lot of fun and make the working day exciting. I also really appreciate the opportunity to continue my education.