Your treatment
A perfect result requires your participation
---
Orthodontic treatment takes time and patience. Therefore, I would like to give you the opportunity to inform yourself in advance about your treatment. Please note that your disciplined cooperation (or that of your child) contributes significantly to the success of the treatment. Please take the time to gather the required information.
Preparation
How do we plan your treatment?
---
Initial Consultation
Understanding your orthodontic needs is a key element of our relationship with you/your child.
Treatment Options
We explain the processes of your treatment and the various options for the desired treatment goal.
Health Questionnaire
We would like to find out more about you: A precise anamnesis helps us to define the goal of your treatment in advance.
Investigation
During your first visit, we will examine the position of your teeth and jaw and also your jaw joints.
Based on the first examinations and the precise anamnesis, we determine treatment goals together with you and discuss the further procedure. If you decide to have orthodontic treatment, I will recommend compiling orthodontic findings.

We are always ready to answer questions and help you with your decision.
Initial Findings
In the next step, we collect detailed findings as part of the preparation for your treatment plan.
We photograph teeth and face, on the one hand to record the status quo and on the other to monitor progress. We also take x-rays of your teeth and head.
Of course, we also take exact impressions of your teeth and use them to make plaster models. These models are then clamped into an articulator in precise relation to your temporomandibular joints. In this way, we document the initial situation before the orthodontic treatment.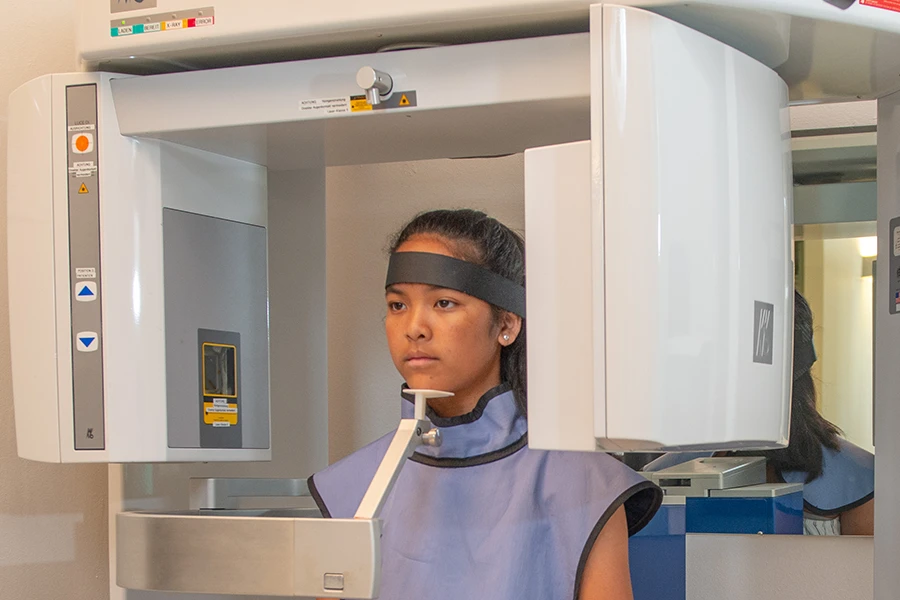 We are pleased to report that our practice uses the latest imaging technology in the jaw and face area. Under certain conditions (e.g. if the patient suffers from craniomandibular dysfunction – TMD, impacted teeth or other diseases of the jaws and teeth) it is advisable to take three-dimensional images of the head.
We work with digital volume tomography (DVT, CBCT). This type of computer tomography was specially developed for dental, orthodontic and maxillofacial surgical indications and has a significantly lower radiation exposure than traditional computer tomographs.
We use this device to create high-quality three-dimensional images of the temporomandibular joints, teeth and jaws.
Based on the data collected in the first consultation regarding the medical and dental anamnesis and the examination results of the tooth and jaw position, as well as the temporomandibular joints, I can now draw up a treatment plan for you (your child).
Complete documentation is a requirement for:
The creation of a treatment plan
Monitoring and documenting the course of treatment
Adjusting the treatment plan to the course of therapy (if necessary)
The documentation of the treatment success after completion
Predicting any future changes caused by tooth movement or growth
Analysis & Planning
As in architecture, careful planning is the foundation for a successful outcome.
Step 1 – Treatment Plan
Once all the diagnostic documents are available, I will draw up a treatment plan for you (your child), supported by the latest orthodontic software.
Step 2 – Aesthetics & optimal function
I pay particular attention to the best possible aesthetics and optimal function in order to keep the teeth healthy in the long term.
Step 3 – Duration & Cost
This precise analysis and planning allows the duration of treatment to be estimated and the total costs to be determined.
I will personally discuss this treatment plan in detail with you (and your child). After the braces are removed, we will compile new findings. I assess the position of the teeth and the position of the wisdom teeth and can thus plan the retention phase in which the teeth stabilize after the treatment is completed.
3D X-ray
If necessary, we will take a digital volume tomography (DVT, CBCT) image of your head.
The modern 3D X-ray technology was specially developed for dental, orthodontic and oral surgery indications.
It is used in patients with CMD (temporomandibular joint problems), impacted teeth or other changes in the head or neck area (e.g. cysts or tumors).
The 3D image obtained provides precise information about the anatomical situation and allows an exact diagnosis and the development of a suitable orthodontic treatment plan.
The 3D imaging technique used in our practice (I-Cat) is a cone beam computer tomograph, which exposes patients to a significantly lower dose of radiation than a traditional computer tomograph.
Treatment
Orthodontic Treatment
---
The position of your teeth can be corrected at any stage of life – even as you get older. In children, it is possible to exert some influence on jaw growth.
Sometimes I recommend the treatment in 2 phases to get the best possible result. The first phase is carried out in mixed dentition (at the age of approx. 9-10 years, treatment duration approx. 12-18 months). The second phase is started as soon as all permanent teeth have erupted (generally from the age of 12, treatment duration approximately 24 months).
Removable Braces
Removable appliances are sometimes recommended for growing children, for example to prevent teeth grinding, to correct a severe overbite, to stretch the upper jaw or to act as a placeholder due to the premature loss of a baby tooth.
Removable "aligners" (transparent plastic splints) are sometimes used for minor deformities in adult patients.
Fixed Appliances (Brackets)
In the case of more complex tooth or jaw misalignments, I recommend fixed orthodontic appliances.
Brackets are small parts made of stainless steel or ceramic that are glued to the teeth. A specially shaped wire is held by the brackets and moves the teeth into the desired position. Our practice uses self-ligating brackets to attach the wires to the brackets.
Orthodontic appliances move teeth with very light forces. The teeth are slowly guided into the desired position. The treatment takes place in many steps, whereby the regular check-up appointments to check and adjust the course of treatment must be observed.
Ceramic brackets are clear. Since this ceramic material is harder than tooth enamel, the brackets could wear down the opposing teeth (e.g. if you grind your teeth while you sleep). We therefore only recommend ceramic brackets for the upper teeth.
Headgear & Elastics
During your treatment, it may be necessary to fit orthodontic elastics or, as your child grows, a headgear (face bow). To ensure safe and effective use of the headgear, please follow our instructions carefully.
Patient Responsibility
Your role in treatment success
---
The success and length of treatment depend not only on your cooperation and that of your child, but also on factors such as tissue reactions, tooth eruption patterns and jaw growth. Cooperation before, during and after treatment is your personal responsibility.
Outstanding orthodontic treatment success can only be achieved if patients and parents are cooperative and well-informed. Successful treatment is based on teamwork – this means that patients, parents, practice staff, the treating dentist and the orthodontist work together. The possible result is a beautiful smile, healthy teeth and improved self-esteem.
Costs
Information about the cost of your treatment
---
As an orthodontist of choice, I am asked by the Austrian health insurance company to disclose my fees for services (according to § 153a ASVG Para. 4, subsidized braces). In accordance with the guidelines of the Austrian Dental Association, however, I am only allowed to announce the prices of these reimbursable services on our website. Please contact our practice for all other prices. In principle, services are billed at a flat rate. We would be happy to inform you about this.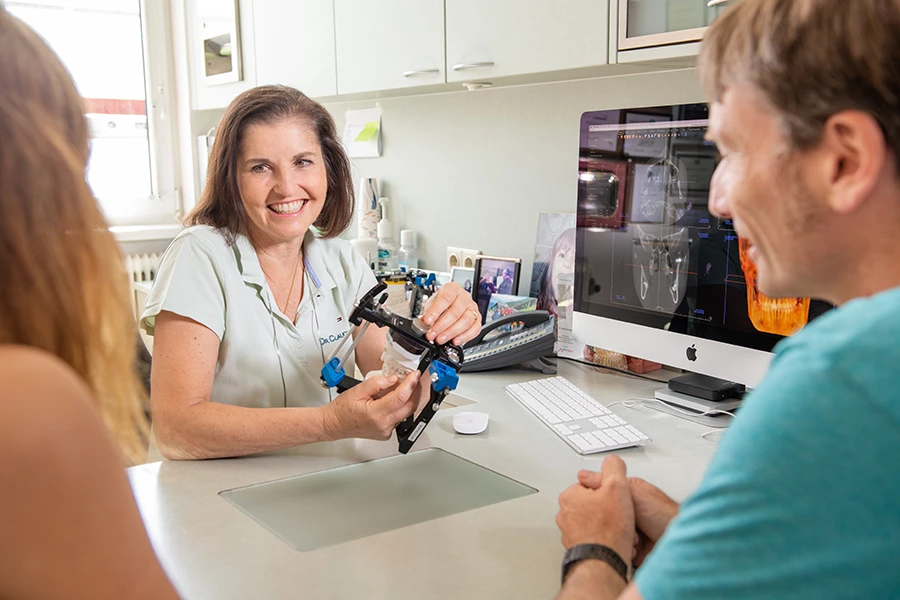 initial consultation
Detailed consultation including photo documentation, clinical examination, jaw joint examination and IOTN assessment.
Costs: price on request (will be credited at the start of treatment)
Orthodontic diagnosis and treatment plan
Preparation of the necessary diagnostic documents:
X-rays
TMJ-related assembled models
Temporomandibular joint examination
Photo analysis of teeth and face
Virtual computer-aided treatment planning
If applicable, growth forecast
Interview to explain the treatment plan
Cost: Price on request
If indicated: 3D diagnosis using DVT (additional costs on request)
Milk dentition and mixed dentition
Treatment of crossbites, pronounced jaw or tooth misalignments, space-keeping appliances – after premature loss of milk teeth – with fixed or removable appliances.
Duration of treatment: approx. 3 months to 2 years
Cost: Price on request
You will receive a refund of 80% of the health insurance contract rate from your health insurance company.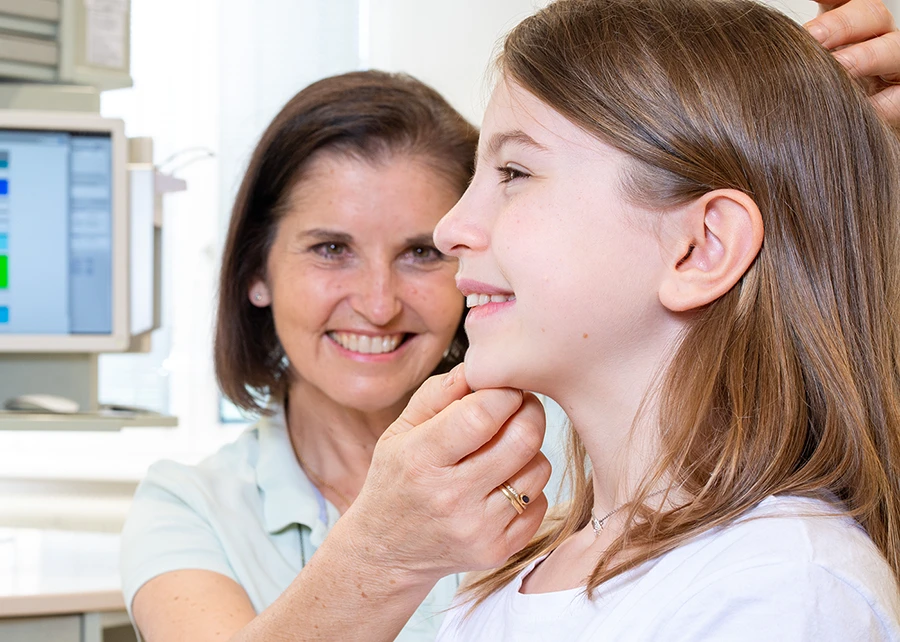 Deciduous teeth and permanent teeth (approx. 12th -18th year of life)
Treatment with fixed appliances (multibracket appliances).
Duration of treatment: 2 to 3 years
Cost: Price on request
Patients who have not yet reached the age of 18 at the start of treatment are reimbursed 80% of the health insurance contract tariff (in the event of a misalignment of IOTN 4+5).
Permanent Denture (Adult)
Treatment with fixed appliances (multibracket appliances), aligner splints or fixed internal appliances.
Duration of treatment: 2 to 3 years
Costs: All-inclusive costs on request
Depending on the health insurance company and the severity of the deformity, you will receive a subsidy from your health insurance company after you have submitted the treatment documents and the treatment and cost plan.
Retention
Stabilization of the treatment result by means of internally bonded wires and/or removable night braces.
The costs for the first production as well as the check-up visits after the end of the active treatment are included in the treatment flat rate.