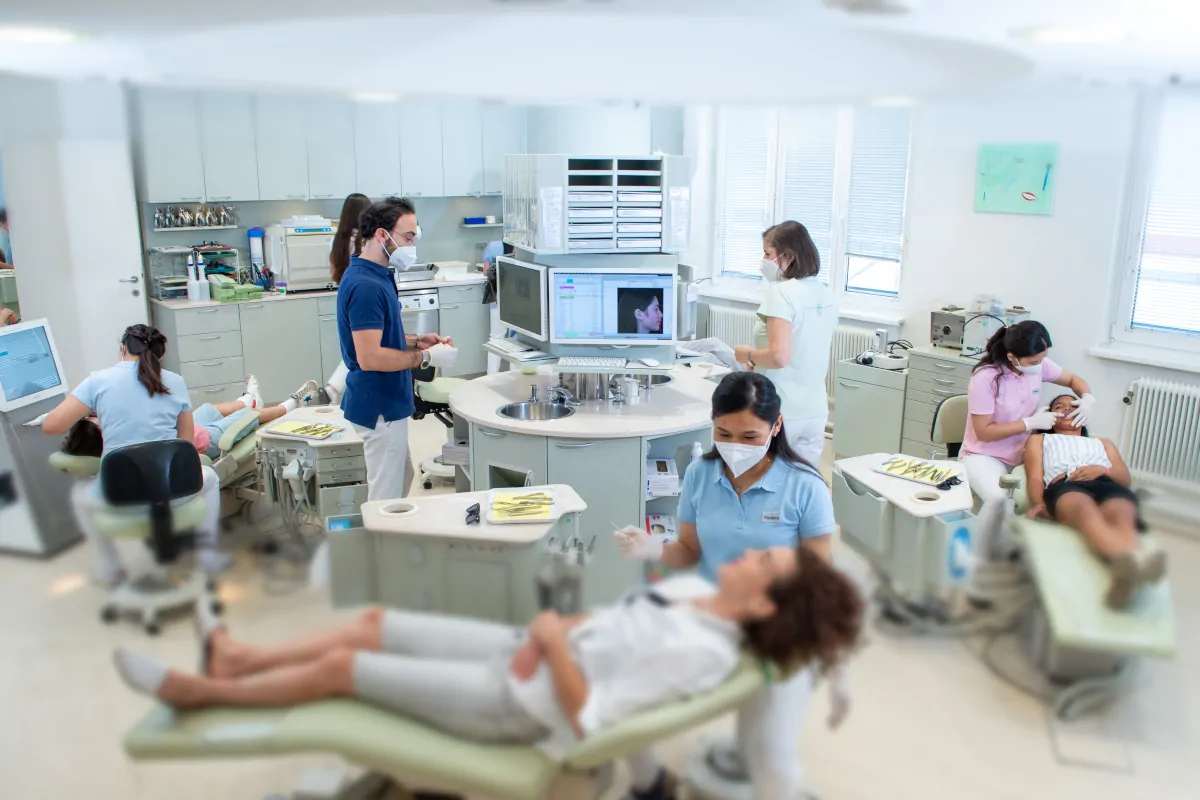 Your modern orthodontic practice in 1190 Vienna
Your modern
orthodontic practice in 1190 Vienna
Orthodontics Dr. Claudia Aichinger
Orthodontics
Dr. Claudia Aichinger
---
Welcome to our orthodontic practice, where your well-being has enough space so that your smile can compete with your satisfaction. In the modern ambience of our practice, we take the time for you and are at your side with a lot of experience and know-how. For us, good and competent treatment is the measure of all things: recognizing problems, pointing out possibilities and offering solutions – these are our tasks, which we fulfill with a lot of friendliness and the methods of the latest dental technology.
Orthodontics
We don't simply bring back your smile
---
The goal of orthodontic treatment is much more than to give you a beautiful smile. In this section of the website we would like to give you an insight into what orthodontics can achieve, when you should seek treatment and what you can expect from your orthodontist.
Our promise
How we work
---
Best possible treatment
Our goal is not only to help you achieve a beautiful smile: With optimal treatment, we also ensure the health of your teeth in the long term and sustainably.
Patient satisfaction
Your satisfaction is our priority. That's why we treat every dental problem with the same attention and care – for more well-being and the best possible success.
Personal care
We attach great importance to personal support: That's why we take the time for you and your questions and support you in your decision. We can even advise and care for many patients in their mother tongue.
Active collaboration with patients
Successful treatment is based on teamwork. For us, this means: good cooperation between patients, parents, practice staff, treating dentist and orthodontist.
A team that enjoys their work
We enjoy working intensively with children, young people and adults. The basis for this is treating each other with respect and good teamwork.
Constant training
Successful treatments require an experienced doctor and a competent team. That is why we are constantly training for you and can therefore offer you orthodontic treatments of a high standard and the best level.
Your treatment
Important information for your treatment
---
Orthodontic treatment takes time and patience. Therefore, I would like to give you the opportunity to inform yourself in advance about your treatment. Please note that your disciplined cooperation (or that of your child) contributes significantly to the success of the treatment. Please take the time to gather the required information.
About us
You will be in the best hands with us
---
The patient to the fore
We attach great importance to the satisfaction of our patients: whether small or large – we focus on all patients and get the time they need.

Counseling in native language
We speak the following languages: German, English, Russian, Arabic, Persian, Greek, Turkish, Dutch, Filipino, Kurdish, Hindu, Chechen.
Qualified team
My own further training and that of our team are very important to us. It enables us to offer orthodontic treatments of a high standard.
Enjoyment at work
Enjoying our work, personal care and active cooperation with our patients and treating each other with respect are important elements of our work.
Experiences & Reviews
What our patients say about us
---